"Emmett"
DOB: 5-22-04
ACVO: Litter tested 7wks & Yearly
OFA:Hips-Good, Elbows-Normal, Congenital Heart Database-Normal ,Thyroid-Normal
Optigen:DNA Tested A1 Normal/Clear of PRA, Normal/Clear of RD/OSD
VetGen DNA-Type VI Bb-ee (YBC)
Proven Sire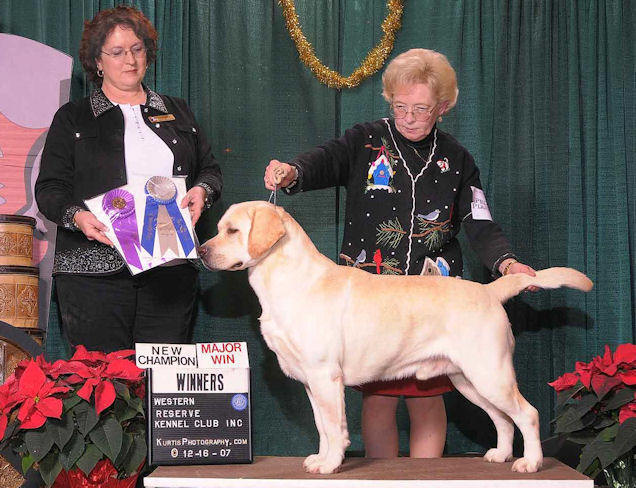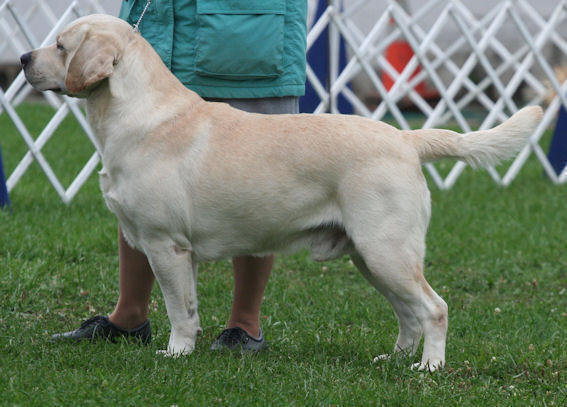 ~3rd Open Ylw~~Hoosier LRC Specialty-04/23-06-Susan E. Huntzinger
~RWD~~Saginaw Valley KC 4/7/07-Col Jerry Weiss
~1/WD~~Saginaw Valley KC-4/8/07-Robert Stein
~RWD~~Progressive Dog Club of Wayne CTY-4/28/07-Richard M. Chashoudian
~RWD~~Progressive Dog Club of Wayne CTY-4/29/07-Sari Brewster Tietjen
~1/WD~~OshKosh KC-5/19/07-Anslie Mills
~1/WD/BOB~~Winnegamie KC-5/20/07-Mrs. Robert D. Smith
~1/WD/BOB~~Holland MI KC 5/25/07-Douglas p. McFarland
~RWD~~Grand Rapids KC 5/26/07-Joseph E. Gregory
~RWD~~Kalamazoo KC-5-27-07-Linda L Robey
~2nd Op Ylw~~Michiana KC-6/23/07-Donna j. Buxton
~1st Op Ylw~~Ann Arbor KC-7/7/07-Debbie Campbell
~RWD~~Ann Arbor KC-7/8/07-Robert D. Salsbury
~3rd OpYlw~~Beaver County KC-8/4/07-Claire White-Peterson
~2nd Op Ylw~~Muncie KC-8/16/07-Karen Martin
~1/WD/BOS~~Andersen KC 8/17/07-Gail Shearer
~3rd Op Ylw~~Muncie KC-8/18/07-Cheryl Curtis
~RWD~~Anderson KC-8/19/07-Tom Shearer
~3rd Op Ylw~~Huron River LRC-9/28/07-Claire White-Peterson
~1/WD/BOW~~Licking River KC-10/13/07-Susan St.John Brown
~1/WD/BOB~~Mad River Valley KC-10/14/07-Judith A. Brown
~3rd Op Ylw~~Delaware KC-10/28/07-Virginia L. Lynn
~1/RWD~~LaPorte KC-11/1/07-Sally Sasser
~3rd OP Ylw~~Marion KC-11/3/07-Donald Sturtz
~3rd Open Ylw~~North Eastern In KC-11/04/07-Jeff Gilmore
~RWD~~Dayton KC-11/16/07-Stephen R. Hurt
~3rd Op Ylw~~Central Ohio KC-11/18/07-Carol C. Sommerfelt
~1/WD/BOW(Major)~~Medina KC-12/14/07-Sharon V. Derrick
~1/WD(Major)~~Western Reserve KC-12/16/07-Shirley"Charlie"Fippin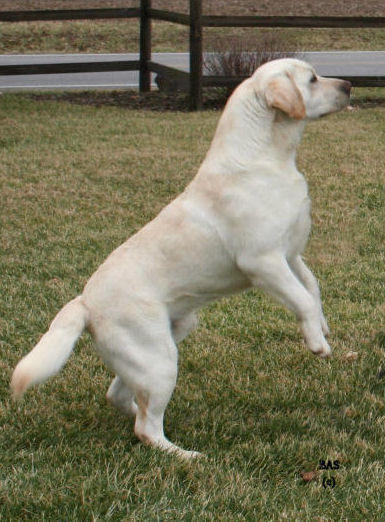 Emmett is a very happy boy, who has never had a bad day , loves to work or show, and He moves effortlessly and efficiently without putting a foot out of place. The show career started later in his life than most would because of our particular family obligations so His first show experience was not until the Hoosier LRC Spec 2006 followed by a class placement at Miami Valley LRC 2006 . After that, he again stayed home until April 07 before officially resuming his show career. He was consistently competitive in the show ring with points, some reserves to majors, and regular placements in the open yellow Dog classes under both breeder judges and all-breed judges. We are now happy to announce that he finished his AKC AMER CH at the age of 3 1/2yrs with two Majors at the Cleveland Crown Classic 2007.