ABOUT US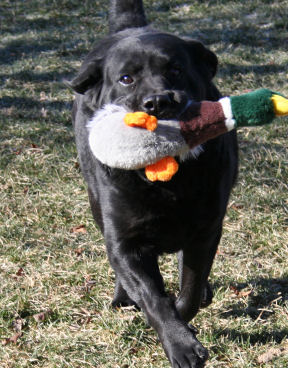 Our adventure with and passion for Labradors began in the 1970's. Our love of this very special breed has only grown with each passing year. In our present day labbies, we are looking for good temperament, natural hunting ability, soundness, intelligence,trainability, and breed type for show competition. Large heads with a kind, pleasing, intelligent expression, plenty of bone, correct double coat, and otter tail are also foremost in our minds when we are studying for a breeding. Brandy a daughter of the wonderful Ch. Dickendall's Ruffy WC, SH and mother of our very special Shadow was the foundation for our present line thanks to Dr Chris Kofron DVM. Ever striving for that ideal of the Multi purpose Labrador, we also seriously consider the working ability of the sire and dam as well as the working history behind both of them. To help us accomplish our goals, Barb is a member of the National Labrador Retriever Club and was also for several years, a member of the Central Ohio Labrador Retriever Club and a few years of the Ohio Valley Retriever Club.
In 1991 we moved to our present home which has 7 lovely acres with a natural stream for beginning training. We are constantly working on improving the landscape for the dogs, training, and wildlife. So far we have planted over 1200 trees for windbreaks, riparian buffers, and wildlife. Walks through these areas provide education for the youngsters who are developing the use of their keen natural instincts. Young dogs love investigating the wonderful smells and traces of wildlife such as deer, rabbits, pheasants, cranes, ducks, geese, and hawks that venture through our property. This ground and the creek have just enough cover to begin the training process and to provide positive early learning experiences. As soon as weather permits, puppies have a wonderful time swimming and playing around the training ponds and the creek where they first learn to retrieve from the water. These outings are always great fun for everyone involved and they prepare the pups for further exploration in other places.
Our kennel will always remain small and we believe it is our duty, as with any responsible breeder, to strive for quality to help guard the welfare of the Labrador. We normally only have litters no more than once or twice a year if that, so that we are better able to give them individual attention. Our pups are born in the house. After weaning they have their own special play pen full of toys and obstacles for learning. They receive lots of tender loving care and socialization.
All individuals used for breeding are OFA certified and/or Penn hipped for more breeding information. Many years ago, before it was the popular thing to do, we began doing elbows. This gives us a long history of information on that as well. ACVO/or CERF cleared yearly from Ohio State University Opthalmology Dept or another recognized ACVO delegate. Also we are striving to have all individuals that will be used for breeding be tested for Optigen PRA & RD/OSD, EIC, Thyroid, Cardiac Dopplar, CNM,DNM,long coat gene and others such as DNA Color testing to prove what color mixtures they are carrying including the complete absence of the Silver Dilute Gene.
Please don't believe the false hype from those promoting silvers. Help protect the future of the traditional Labrador that has only been three colors since the stud books closed. If we do not, all of the years of work by respected breeders who have loved and protected this breed to oversee its rise from birth as the most popular breed in America (possibly the world)will be but a memory.
In the past,other breeds have suffered a great deal by allowing fundamental changes in the gene pool which resulted in serious consequences.
Click on all of the BLACK links below for more information on the dilute gene and the various problems that gene can introduce. Silvers have stealthily become numerous and are possibly here to stay but it is our contention that they should not be considered as part of the Labrador breed thus destroying what has taken years to protect and build but as a separate entity with a separate name.

The AKC Parent Club of the Labrador Retriever about SILVER coat color in LABRADORS—latest Official Statement:The Labrador Club,Inc.