Am/Can Ch WhiteWing Smoke on the Water CGC,TDI "LUCAS"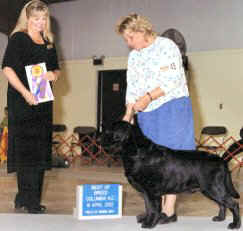 Breeders:Norris & Barb Stinehelfer
Co-owners: Barb Stinehelfer & Linda Solomons
Color & Markings: Blk(By)
Birthdate: 11/20/1997
Full Dentition
Heart Doppler: Normal/Cardiologist
Thyroid normal by free T4 by dialysis
Hips: OFA certified Good at 25 months
Optigen PRA: A1 Normal/Clear
Elbows:normal
Eyes:Litter Tested at 7 Weeks & Cerf
Lukie was a sweet, intelligent boy who loved life and was smart enough to figure it out long before most do. He was just a Cool Hand with lots of bone and substance. Lukie finished his life here in Ohio but many Thanks to Linda, Allison, & Ivan, who took such good care of him while he saw the sites finishing very quickly in Canada.
3-17-2002 Detroit Kennel Club, Judge Betty Graham -1st open black - RWD
3-30-2002 Raleigh Durham Specialty, Judge Janet Farmilette - RWD
4-07-2002 Columbia Kennel Club, Judge Mrs. Debra McKinley - WD/BW/BOB Major
8-03-02 Beaver Cty Kennel Club, Judge Mrs. MaryAnn C. Czerwinski - WD Major
8-04-02 Northern Ohio Specialty, Judge Ms. Nancy Arbuckle - WD/BW Major
8-31-02 Newton Kennel Club(JSLRC supported entry),Judge Debra McKinley -RWD
9-21-02 Atlanta Kennel Club, Judge Mr. Tom Bradley- WD Major
10-11-02 Labrador Retriever Club, 2002 National Specialty Show, Judge Roger Orton- RWD
12-07-02 Forsyth Kennel Club,LRC of Piedmont Supported entry, Judge MS.Elizabeth Muthard- WD/BW/BOS Major
Many thanks also to his handler and great friend Karen Day along with the judges that recognized him